Description
Here's a clever addition to your interior. Pilots of home-built aircraft in the US are required to notify passengers about the experimental status. One way to do it is with a nice placard like this one. It's a small piece of aluminum (2 by 3.5 inches) with black lettering that reads as follows:
Passenger Warning
THIS AIRCRAFT IS AMATEUR-BUILT AND DOES NOT COMPLY WITH FEDERAL SAFETY REGULATIONS FOR STANDARD AIRCRAFT
In the builder's opinion, it exceeds them.
Note: As of 2018, the wording has changed slightly. In the current inventory, the placards that do not have the Bearhawk logo read as above (including "amateur built"). The placards with the Bearhawk logo have the updated wording: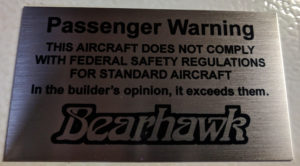 The placard is very light-weight and is ready for you to attach as you see fit. You could drill holes in the corners and use rivets/screws, or perhaps you could use an adhesive. The material dimples well if you plan to use flush fasteners.
We decided not to include any border or box around the words so that you can also trim the placard if space or weight is a premium in your installation. The cleco in the picture is for size reference.
Choose one of two styles, either with or without the "Bearhawk" logo.